Be everywhere with our Live Streaming service

Take your virtual event to global audiences with the latest technology.
Do you want to take your virtual events to the next level?
We offer professional video and live streaming services with state-of-the-art technology and the highest quality standards.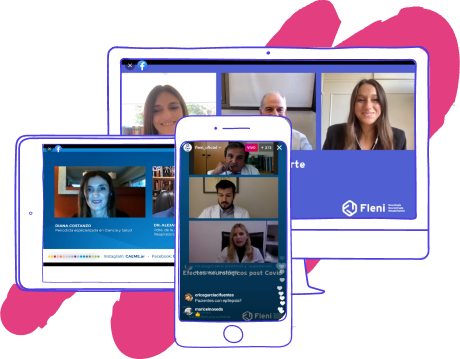 services
Live Streaming & Recordings
Webinars, interviews, workshops… Whatever it is, we make it happen!
Live Streaming in closed platform
Live Steaming in Social Media
Studio recording
Networking
Graphic design & Visual styling
We make the visual experience unforgettable.
Set design
Graphic resources
Ad resources
Tools for speakers
Overall transmission management
We are your right-hand people 😉
Consulting and planning
Scheduling
Visitor registration
Certificates
other services
Website development
Web design
Access system
Adhesion to ticketing system
Sections according to dynamics
Attendance validation
Performance reports
In-room moderation
Manual de buenas prácticas
Rehearsals
Recommendations for assistants
Readability verification
Communication and digital marketing
Digital marketing strategies
Ads
Content Marketing
Social Media Marketing
Direct Marketing
We can help you in all these social networks:
Make your event achieve greater success!
Contact us now and learn how we can help you.
Benefits

Virtual events have significantly lower costs than face-to-face events.

Virtual events make it possible to reach a global audience.
03
Flexibility and customization

Virtual events allow participants to attend from anywhere and customize their experience.

Virtual events offer opportunities for attendee interaction and participation, and measurement of results is more accurate.
Companies that trust us
We have worked with a wide range of clients across a diverse range of industries.
Contact us
Learn more about our prices and packages.
Send us your contact information and we will get in touch with you.
BLOG
In our blog you will find useful information about live streaming, visual design, and everything about virtual events and technology.